"Best value Employee Time and Attendance Management Software in Australia"

Cloud & Phone App Systems

Ideal for small businesses because they do not require software to operate. This is a no fuss solution for companies who have limited technical skills in house or simply don't have the time to setup a more complex software based time clock system. These are some of our most popular time clocks for small business.

If you require the added security of fingerprint attendance or facial recognition attendance system then a biometric time clock system is your insurance against employee time theft.
Stand alone and software based systems are available with options for pre-configured or self installation.

Do you have mobile workers? If you do then an employee time and attendance software in Australia with the option for staff to clock their times with a GPS tagged location is a must. Our cloud systems are very affordable and you can mix phone apps for your mobile workers with physical time clocks for your fixed location employees.

If your company has multiple sites with centrally managed payroll then a robust multi-site time attendance software may be the best option for you. Leave management, payroll integration, advanced reporting, department costing and an employee self service portal are features of our enterprise level systems.

Simple Time & Attendance Solutions
Do you need simple time and attendance management software for you business in Australia? If you answered yes it probably means that you don't want your new time clock machine system to be complicated or difficult to set up and operate. The key to this a clear understanding of your specific company requirements and objectives and the selection of the best technology to match those requirements. This doesn't need to be a complex process. It's as simple as a 10 minute telephone call (1300 553 254) or a few minutes of your time filling out our online inquiry form.
Within 24 hours we will email a proposal to you including brochures and pricing. Your proposal will include all the costs of implementing a new time and attendance software system including the setup of your your employees and the configuration of your attendance rules. No hidden extras, no surprises.

Simple time and attendance is more than just an easy to use, intuitive product. A simple to use and intuitive product is what the end user sees when a sophisticated and well supported product is running in the background. This is why we pre-configure our employee attendance software systems prior to dispatch so that all you need to do is plug them in and turn them on. This applies to our entry level systems and our more advanced products.

Contact us today so we can show you how simple time and attendance software systems can be. As business owners and managers employee absence and attendance recording can make your payroll preparation process efficient and cost effective.

Some of the many payroll software products supported by our time and attendance software.

Free Time Clock Buyers Guide

Fill in the Inquiry Form and we will send you a complimentary copy of the Time & Attendance Consultant's Introductory Guide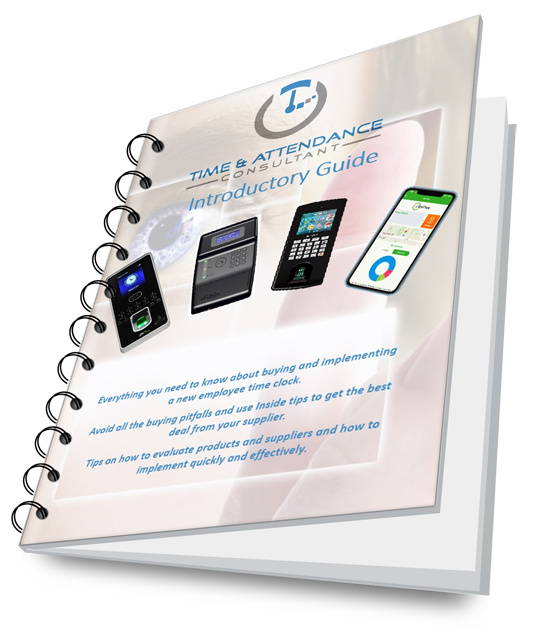 This comprehensive guide will give you a much better understanding of employee time clocks and time and attendance software.

The guide is full of tips and tricks that will help you find the right product, the ideal supplier and ensure that the system is properly implemented.